As we have witnessed this week, the Federal Reserve met and Mr. Market has responded. Just as I was beginning to relax, and take a few (much needed) days off, I am now scrambling to provide investors with a last-minute stocking stuffer list (see: My Top 10 SWANs for 2019).
It's stressful enough, just days before Christmas, but I'm not surprised with the reaction, despite the expected Fed actions – boosting interest rates for the fourth time this year and cutting its 2019 forecast to two hikes from three.
Nobody likes stress, especially Mr. SWAN.
That's right, somebody recently called me Mr. SWAN and at first I thought they were referring to the legendary wide receiver, Lynn Swann (won four Super Bowls, was selected to three Pro Bowls, and was named MVP of Super Bowl X), and then I knew they were referring to my frequent use of the term "sleep well at night."
Nonetheless, the violence with which Mr. Market has reacted to the rate fears has added to everyone's stress level, and so I thought now would be a great time to provide Seeking Alpha readers with my annual "Positions for 2019" article.
By the way, I'm warming up to my new name, Mr. SWAN.
SA: What do you expect to be the key driver of stock market performance in 2019?
BT: First off, let me remind you that there's a big difference between stock market performance and company fundamentals. As we have witnessed throughout 2018, REIT market performance has been heavily influenced by interest rate policy and that's why, as of December 20th, the Vanguard Real Estate ETF (VNQ) has fallen by -7.7% year-to-date.
As I reflect on the past and future, it's important to recognize that REITs have been unusually sensitive to interest rates, coming off historically low levels. Throughout most of 2018, investors have been anticipating faster rate hikes in response to tax cuts and rising inflation, and this has created an almost year-long overhang for most REITs, regardless of the property sector.
But as I said, market performance and company fundamentals are complete opposites, and it's important for investors to recognize that interest rates are rising because the economy is improving, and that should translate to better real estate fundamentals.
As we have witnessed this week, interest rates could (and will) create volatility, but as value investors we see nothing but opportunity. Especially when you consider that over the last five years, earnings multiples for stocks have expanded significantly while multiples for REITs have declined.
Buying cheap REIT shares are not a guarantee of future returns but a stronger economy could lead to stronger fundamentals, and this precisely what our job is, to always focus on fundamentals. The combination of low relative valuations and improving fundamentals says that this could be a good opportunity to allocate more capital to high-quality REITs.
As we select REITs to own in 2019, the key is looking for REITs that can grow their dividends in spite of economic or geopolitical shocks, and that have the scale and cost of capital to sustain their growth. Throughout my writing career on Seeking Alpha, I have always stressed the importance of owning "high-quality" REITs because they are considered "flight to quality" names, that will generate steady growth through the good times and bad.
To cite one example, the stalwart REIT, Realty Income's (O) shares have grown by +14.1% year-to-date, compared with VNQ that has declined -7.4%. Throughout most of 2018 Realty Income was trading like most other REITs, but during Q4-18 the market recognized that safety is paramount and high-quality companies will usually perform well during a safety environment.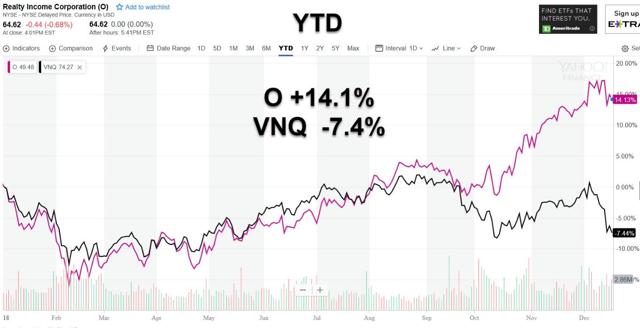 Source: Yahoo Finance
So, as far as 2019, I want to continue stressing the importance of quality, because at some point the market will recognize the underlying security for its true value. As long as the fundamentals are sound, a market's short-term views on the price should be ignored and will likely be corrected in the long term.
SA: As we approach 2019, are you bullish or bearish on U.S. REITs?
BT: As you know, my job is not to be the 'REIT cheerleader" on Seeking Alpha, but instead to help investors navigate through various cycles. Right now, we are in the midst of a rising rate environment, and I just said, I consider the pullback an opportunity.
That being said, you must be tactical, and understand the various drivers within each property sector. For example, retail REITs obviously underperformed in 2018, and although we maintain a marketweight sentiment (for retail) in 2019, we have drawn the line in the sand, bifurcating the "wheat from the chaff."
In other words, we are very bullish with the "high quality" REITs like Simon Property Group (SPG) and Tanger Factory Outlet (SKT). Alternatively, we are highly bearish with regard to CBL & Associates Properties (CBL) and Washington Prime (WPG).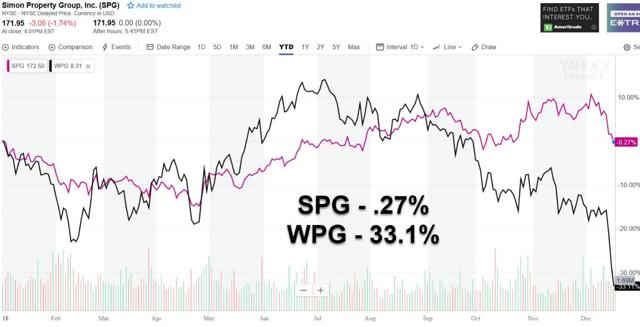 Source: Yahoo Finance
As you can see, Simon's shares declined -.27% year-to-date, while Washington Prime's shares declined by -33.1%. By focusing on the quality names, and avoiding "sucker yields," we were able to protect principal and generate steady and reliable dividend income.
In January 2019, we will provide marketplace members with a sector-by-sector analysis of all property sectors, including the specialized sectors like farming, prisons, cell towers, and gaming.
We are overweight (most bullish) with regard to data center REITs, cell tower REITs, net lease REITs, and healthcare REITs.
Our prized pick in the cell tower sector is Crown Castle (CCI), based on the company's 5G densification efforts and robust earnings (or AFFO) growth forecasted. We like CCI's multi-tiered infrastructure strategy with many tools in its toolkit, and shares trade at a modest discount, P/FFO is 22.4x and the dividend yield is 4.1%.
Data center fundamentals remain as healthy as ever, 2018 has been a record leasing year for CyrusOne (CONE), with bookings up nearly 30% over 2017. Significant lease-up throughout 2018 has kept supply/demand balanced, while pricing and returns appear to have generally stabilized across the major markets.
The secular drivers that have been providing a strong tailwind for Data Centers should continue for years to come. New construction should open up new inventory as we head into 2019, although more than 50% of the industry's development pipeline has been pre-leased, helping de-risk oversupply concerns.
CONE is our top pick, but we believe investors should also consider Digital Realty (DLR), Equinix (EQIX), and QTS Realty (QTS). Also, Iron Mountain (IRM) is increasing data center exposure, and we really like the company's prospects for integrating traditional box storage, digitizing and data storage.
As referenced earlier, 2018 started out slow, and more recently we have witnessed a 'flight to quality' for REITs like Realty Income and Store Capital (STOR) – and these REITs are all recognized by their strong fundamentals: occupancy of 98-99%, favorable leasing volume, and consistent dividend growth.
Most Net Lease REITs have well-funded dividends that could support valuations better than other lower-yielding REITs, and yesterday we highlighted a "SWAN-A-BEE" referred to as Essential Properties Realty (EPRT).
Within the healthcare sector we seek to own REITs that are better capitalized for external growth opportunities. Again, we are focused almost exclusively on 'quality' and our prime-time players include companies like Ventas Inc. (VTR), Healthcare Trust of America (HTA), and Physicians Realty (DOC).
On the skilled nursing front, Omega Healthcare (OHI) has been one of our hottest picks in 2019, but SBRA's recent lease termination with Senior Care sparked signs of reality, and we have been trimming back exposure in both OHI and SBRA.
We're also underweight lodging, office, and farming. Not to say that we don't recommend owning any REITs within these sectors, we are just bearish with regard to their growth prospects in 2019.
SA: Which domestic/global issue is most likely to adversely affect U.S. markets in the coming year?
BT: As referenced previously, we are underweight farming, as we believe that the grain crops will be more difficult if the tariffs stay in place. Soy Beans sales are off dramatically and if there are no buyers from China it will be a terrible year for soy.
Corn will likely remain the same as 2018, which is low price sales due to world oversupply. Wheat should be about the same as 2018, due to there being a lot of wheat on the market. If China really does buy soy as reported then the soy farmers should be okay.
However, specialty fruit crops, like apples and cherries, need relief from the tariffs from China, and they will be hurt unless the tariffs are lifted. Non-organics are a big export to China and if the tariffs are in place almond sales to China will decline and that may set off a price decline for almonds.
I can't predict, with any measure of accuracy, when the tariffs will be lifted, but there is no question that the farming sector could see continued volatility (hence our underweight recommendation). Note, we own Gladstone Land (LAND).
SA: In terms of asset allocation, how are you positioned heading into the New Year?
BT: As I said earlier, we are overweight communications (cell towers and data centers), net lease, and healthcare. We are recommending using these sectors as the "anchor" to your portfolio allocation strategy.
The other sectors – retail, residential, self-storage, infrastructure, and industrial – should be your "buoys" that deliver income and growth (weighted to growth).
We have been utilizing the "anchor and buoy" strategy since I began writing (in 2009) and it has been a terrific recipe for success. I haven't finalized the 2018 results yet, but our core portfolio – the durable income portfolio – has generated impressive returns.
I must also stress that our true secret to success is centered on diversification. The durable income portfolio has over 30 REITs, with a majority of SWANs (high-quality REITs), and while the "anchor and buoy" model has delivered, the secret is allocating capital wisely and not reaching for the stars (chasing yield).
SA: What 'surprise' do you see in the market that isn't currently getting sufficient investor attention?
BT: In 2017 we began covering the commercial mortgage REIT sector, recognizing that there is a wave of capital flowing into the space.
Many of you know that I have been extremely bullish with regard to top-performing commercial mortgage REITs, Ladder Capital (LADR) +35.9% YTD and Arbor Realty (ABR) +44.6% YTD – both are internally-managed.
Also, Blackstone Mortgage (BXMT) +15.7% and Jernigan Capital (JCAP) +17.8% have performed well giving our REIT portfolio returns much-needed salsa!
In January 2019 we plan to unveil our commercial mortgage REIT Index that will consist of a dozen companies that now yield an average of 8.4% (average yield of all REITs). The most impressive thing about this specialty finance category is that the group of REITs has returned 16.8% (equal weight) year-to-date (CLNC is not included since it listed in 2018).
We recognized early on that commercial mortgage REITs could serve two roles: (1) provide stable and predictable income (between 6-10% dividend yield), and (2) price appreciation. We are still a fan of REIT preferreds, but we have strategically shifted our focus to commercial mortgage REITs and that has paid handsome dividends (and more).
SA: What issue is receiving too much investor attention and/or already priced in?
BT: I have often argued that the term "priced in" is science fiction. When it comes to the public markets, I'm not sure anything is ever "priced in."
For example, we saw the "knee jerk" reaction on Tuesday of this week with regard to rising rates, and then on Wednesday we saw Mr. Market react with regard to a .25% rate increase and two likely rate increases in 2019. It's plain to see that this news was not "priced in."
Another example, many Washington Prime bulls believe that a dividend cut is already "priced in." Nobody knows if the mall REIT will ever cut its dividend (pays $1.00 per share now), but if the company does eventually cut the dividend, I am certain that the market will react negatively.
Here's my point, Washington Prime now yields 16.3%, yet I don't believe that I am missing out on the opportunity whatsoever. I'm not tempted to risk any hard-earned capital because I am 100% confident that nobody knows what Mr. Market is thinking, and I certainly have no way of knowing how he will react if and when Washington Prime ultimately cuts its dividend (which I have a high degree of certainty that will happen in 2019).
Again, the secret for my success is that I am not chasing yield, I focus on high-quality REITs that will provide me with steady and growing dividend income. Companies with greater future cash flows are intrinsically worth more than those with less, regardless of what Mr. Market is thinking at the time.
SA: Why did you decide to write The Intelligent REIT Investor?
BT: I have been transparent with my history in commercial real estate (over 3 decades) that includes both successes and failures. One of the things that I learned early in life is that you can accelerate the learning process by learning from mistakes (mine and others).
When I began writing on Seeking Alpha (2019 will be my 10th year) I was hoping to build a platform for engagement, recognizing that Seeking Alpha has a terrific community to interact with thousands of readers.
My co-author (Stephanie Krewson-Kelly) and I wanted to create a book using straightforward language and simple examples to illustrate important concepts, to enable any reader to quickly learn and understand the lexicon and valuation techniques used in REIT investing. So this book is an important resource for students, investors, and financial planners. Earlier this year we even published a Chinese edition.
I recently purchased an original copy of The Intelligent Investor (from a library in San Francisco) and sitting on my desk I regularly open the book to remind me of "the central concept of investment," as Ben Graham explained,
In the old legend the wise men finally boiled down the history of mortal affairs into the single phrase, "This too will pass." Confronted with a like challenge to distil the secret of sound investment into three words, we venture the motto, MARGIN OF SAFETY. This is the thread that runs through all the preceding discussion of investment policy – often explicitly, sometimes in a less distinct fashion."
Thank you for the opportunity to provide content on Seeking Alpha and best of luck in 2019. Happy SWAN Investing!
Author's note: Brad Thomas is a Wall Street writer and that means he is not always right with his predictions or recommendations. That also applies to his grammar. Please excuse any typos and be assured that he will do his best to correct any errors if they are overlooked.
Finally, this article is free, and the sole purpose for writing it is to assist with research, while also providing a forum for second-level thinking.
Disclosure: I am/we are long SPG, SKT, CCI, BXMT, JCAP, LADR, ABR, LAND, OHI, HTA, DOC, VTR, EPRT, STOR, O, DLR, QTS, IRM, CONE. I wrote this article myself, and it expresses my own opinions. I am not receiving compensation for it (other than from Seeking Alpha). I have no business relationship with any company whose stock is mentioned in this article.